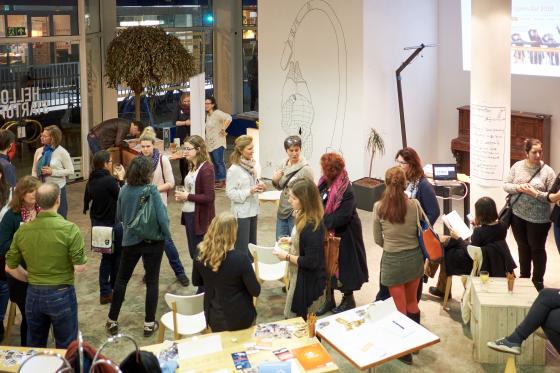 Are you looking for meaningful work with a social impact? Then you've come to the right place in the Spinnen-Netz! Here you will find committed professionals and value-oriented employers in the non-profit sector.
As a network member, you and your professional interests and skills stand at the centre. With you, we spin the threads to NGOs, foundations, educational institutions, Thinktanks and further non-profit organisations. We are in close contact with managing directors and human resources managers and constantly learn which experts they are looking for and on which topics.
This enables us to put together suitable job offers for our members, both professionally and personally, and to take on the corresponding personnel scouting. We support the matching of people with the right mindset. In this way, we not only make it easier to find good people, but also ensure good employee retention: Those who fit well into the team, do a good job, and want to stay longer.
For more than 15 years, job and contract offers from these thematic areas have been discovered here.
Development Cooperation & Development Policy

Sustainability & Climate Protection

Displacement, Migration & Integration

Intercultural Education & Science

Design of Society and Citizen Participation
Which activities? Consulting - Research - Communication - Training - Project Management - Change Management - Fundraising - Mediation - Facilitation
What kind of professional positions? Speaker - Project coordination - Project management - Consultant - Program management - Campaigner - Fundraiser - Executive management
Because we know our members, we tailor the job offer to our members and advise employers on mutual fit. The goal is to have fewer uninteresting jobs or unsuitable applications to sift through, resulting in less mismatching.
Our professional network also facilitates the exchange of professional entry and development strategies and trends in the field. Our 600 registered members, most of whom have a background in the social sciences or geography, are either already working in - mostly temporary - positions, have just graduated, or are freelancers.
Our professional network the Spinnen-Netz works through
a job portal with current offers of jobs and assignments in the non-profit sector

a member portal for spinning mutual threads, exchanging experiences and developing projects

the Spinn.Bars: network meetings for personal exchange about professional topics.

Employer contacts via our network partners to establish contact with employers.

Pool of freelancers to find service providers or cooperation partners.

A mentoring program to support you in professional (re)orientation phases.
Contact us now and become a member?
Simply write an e-mail or register here immediately. Briefly mention how you discovered us or who recommended you.